This year will be the last year for Stelling Banjoworks. Over the course of the year, we will be wrapping things up and shuttering the business. It has been our pleasure to serve you these many years.
Effective Immediately:
The Shop is Closed.
We will no longer take in any repair work (such as fret jobs and broken necks, refinishing, replating, etc.)
Please do not send us any banjos for repair work at all.
We are assembling a list of banjo shops for repairs in a future notice.
The on-line shopping page will still be open, but deliveries may take a week or so more to arrive since we will check and fulfill those orders on a weekly basis.
Please be aware: we will not be able to answer emails and phone calls on a timely basis.
---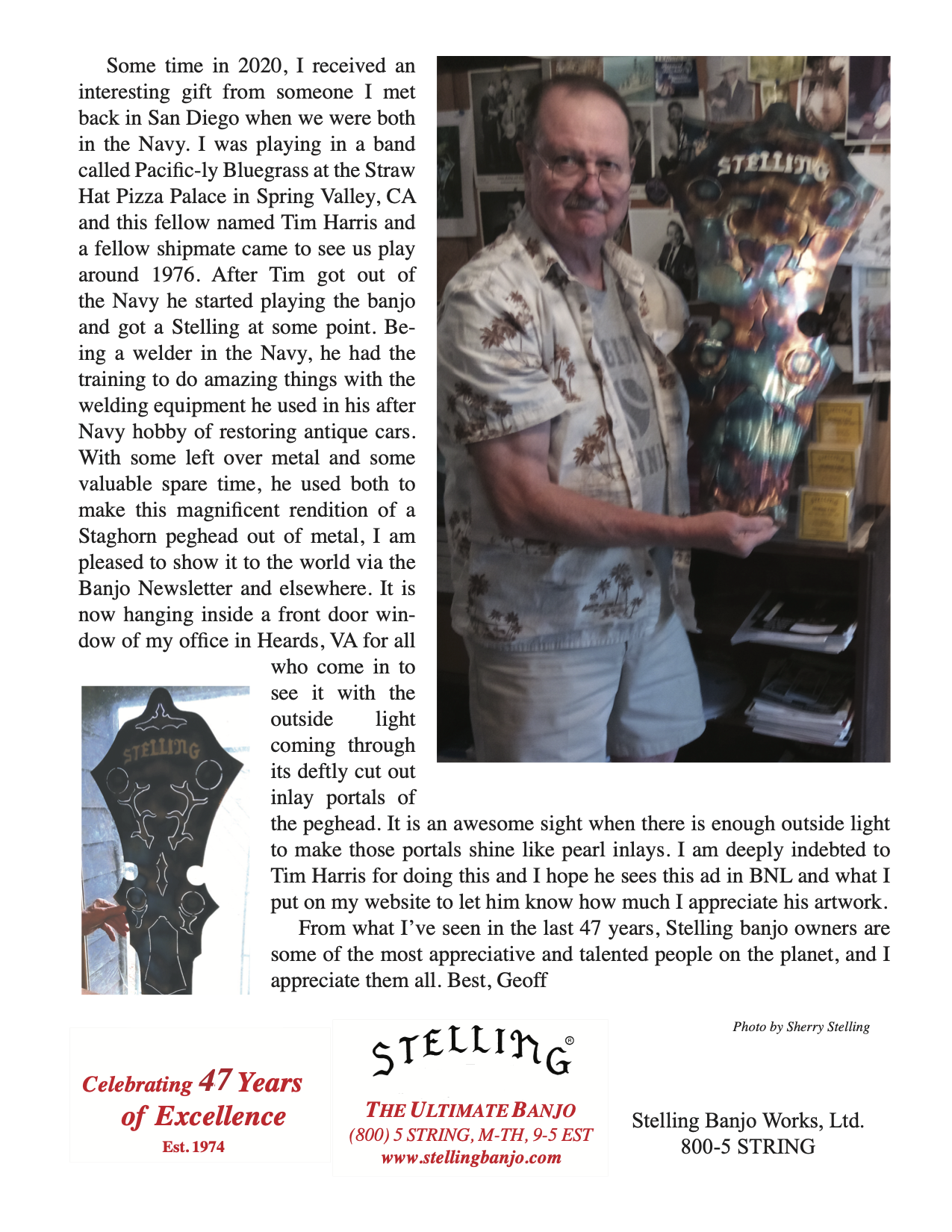 ---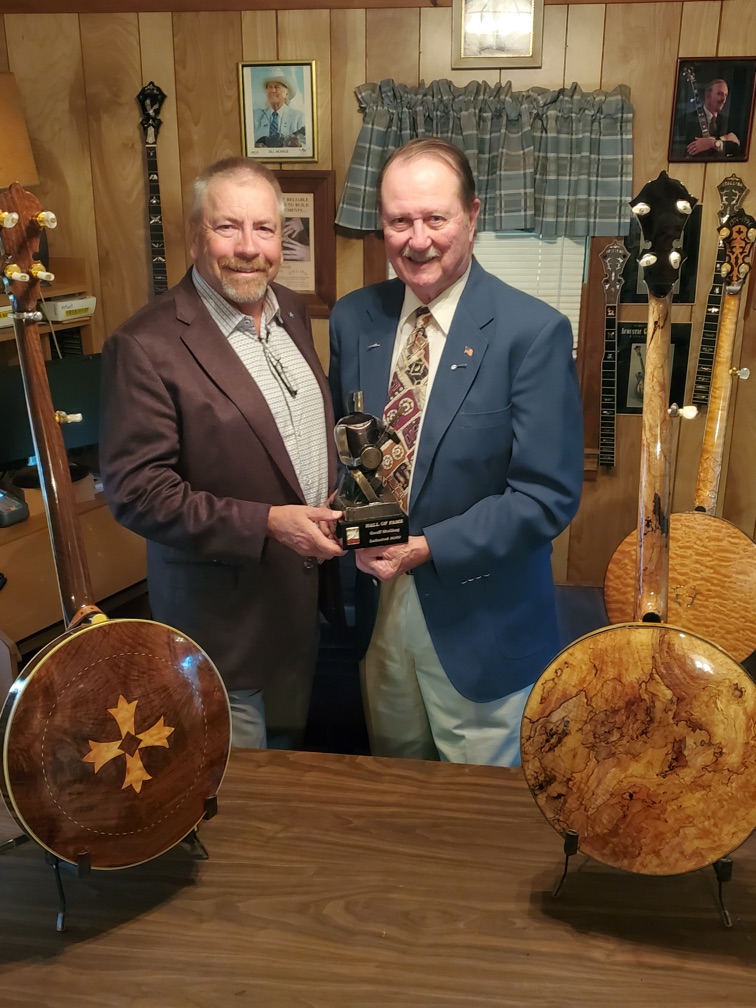 On September 20, the American Banjo Museum president, Doug Parsons, presented me with a 9.25 pound trophy of a man holding a banjo all made out of bronze as a memento of me being inducted into the museum's Hall of Fame. Doug's wife, Phyllis Parsons, took the photos and it was all done in our office with some banjos of interest on the desk in front of us. The banjos are from left to right, a Master's Cross Deluxe in fancy walnut, a custom MasterFlower (called the Spaltwood) in spalted maple, a unique one of a kind banjo, and behind it the 20th Anniversary Staghorn (#8 of 8) in quilted maple. All three are in my personal collection. — Geoff Stelling
A Facebook video of this presentation will be aired on October 12th through October 16th. Check out the American Banjo Museum's home page on Facebook, their website, and their home on youtube.

---
For the first time in decades, you can buy fine instruments directly from Stelling Banjo Works!
In addition to used instruments offered in the Classified Ads, you can buy a new banjo or mandolin directly from us. Please call us at (800) 5-String to order!
May We Recommend….

Packing and Shipping a Banjo
Customers often call or email us for instructions on how to pack their banjos for shipping. The way I ship all my new banjos and repairs out is as follows: I put the banjo in its case and wad up a double sheet of newspaper under the peghead. I twist up a double sheet of
[…]

Stelling's Set-up System
Proper banjo set-up must be done in stages so that repetition of steps done out of sequence is eliminated. If you follow the below listed checks, and do adjustments as necessary, going from the truss rod to the tailpiece setting, you will not have to repeat any adjustments that may have been thrown off by […]

A Stelling Banjo Chronology
Important Instruments and Significant Dates Compiled by Sherry and Geoff Stelling